Well, I'm tired, but it's a good kind of tired. It's the kind of tired you get when you've been playing with the new Zoom H4 for the last few hours.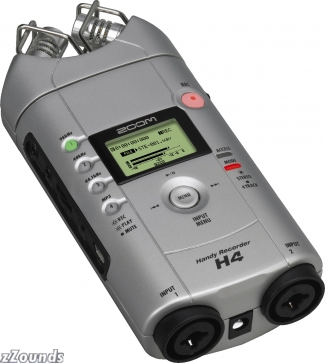 I don't have time or energy to do a full review tonight, so instead I'll give my first impressions. If you have questions, let me know.
First off the H4 comes with some goodies. There's a tripod adaptor so you can attach it to one of those little portable tripods (or a big one for that matter. There's a 128 mb SD card and a USB cable. A CD with Cubase LE. My favorite extra is the little black foam wind screen, which in a pinch could also be used as a clown nose. Always good in an emergency.
Oh yes, an AC adaptor, quick start guide, and a manual. I popped in the SD card, plugged in the power, and started it up.
There are some things I immediately liked and some I didn't like, and here are a few in no real order.
Pros:
-It's small and light, about as thick and long as the PS-04, but not as wide.
-The front panel is uncluttered.
-The stereo mics have cool looking "roll bars" in case you drop the thing.
-The bottom has a cool input that accepts either 1/4" or 3 pin mic plug. I've never seen that before.
Cons:
-The display is pretty small, and I'm not sure why, there's certainly plenty of room on the face of the H4 for more display.
-Most of the menus are navigated through a combination of the Menu key (a joystick in the middle of the front) and the Jog Dial on the side. It can be difficult to remember at times which one you're supposed to be futzing with. Also, the Jog Dial feels like if you push it too hard it might die. Incidentally, the Menu button looks a little different than the one in the picture above.
-If you're used to changing parameters with the 4 sliders on the PS-04, you will miss them sorely. It can be slow going doing things like setting recording levels using the combination of Menu knob and Jog Dial.
Ok, so those are some quick impressions. What about actually using the thing. There are two main modes, Stereo and 4-track, and things work differently depending on which mode you're in. You also have different options in each mode. I'll jump right to 4-track mode, but I want to mention that Stereo mode includes mic modeling that gives you a few choices of mics to be modelled using the attached stereo mics. The choices are SM57, MD421, U87, and C414. You do NOT have these available in 4-track mode.
To test things out, I recorded two mono tracks of guitar and then two mono tracks of vocal in 4-track mode. I only needed to follow the instructions step by step for the first track, after that I had the work flow down and was able to record the next three. You can record up to 2 tracks at a time (either two mono or one stereo) while monitoring all 4 tracks.
But what about virtual takes, you ask. Good question. Rather than virtual tracks, you have two modes to choose from. In Overwrite mode, each time you record on a track, it will overwrite anything already on that track. Danger Danger Danger. This is useful for punch-in punch-out recording, which is only possible in Overwrite mode. The other mode is Always New. In this mode, each time you hit record on a given track, it will start recording a new file for that track. The old files already recorded for that track are stored in the Project folder for the Project you're working on. So yes, in effect, you have unlimited virtual tracks (until you run out of space on your SD card. You can buy one with up to 2 gigs storage.)
One more odd thing about 4-track mode; each track is a 44.1khz 16bit wave file. (In stereo mode you have other options)
Ok, a bit more about Projects. PS-04 users will be used to the concept, but there are a few improvements on the H4 compared to the PS-04 system. First, you can now import your effects patches and tracks from one project to another. Cool! Second, each project has it's own folder on the SD card, and all settings and tracks are stored in that folder, so that keeps things a little better organized than on the PS-04.
I'll leave things there for now, primarily because I'm falling asleep at the keyboard. Let me know your questions and I'll try to post more info tomorrow.